We've all seen the adorable "First Christmas" ornaments for newlyweds, but what really gets me into the Holiday spirit is
Christmas Cards
! What better way to go, as newlyweds, than to make personalized Christmas cards with wedding photos?
Shutterfly
makes it easy, fun and affordable. But just because it's affordable doesn't mean that you're stuck with the standard photo only card, they have traditional
Folded Greeting Cards
that you can easily write your messages in.
I love the easy to use picture editing page, which is super easy for a non-graphic designer. The "soft focus" really gives your photos that romantic glow, but they also have a saturation feature which makes the photos very vibrant, or even a black and white option to inspire that vintage feeling.
The Card Editor is very user friendly and you can easily switch between the front of the card and the top and bottom.
But what I love most about
Shutterfly
's card editor is the fact that you can change the layout on the inside of the card. We're not talking minor changes look at all the options. I decided to go with three of my favorites from our wedding.
But let's not forget your new Mr. & Mrs.
address labels
, and wouldn't you know it, they have matching designs! It really ties the whole project together.
The selection is great for Christmas, Chanukah, or simple and beautiful happy holidays… the problem is picking the best one for your first holiday card!
So what are you doing for your oh-so-important first Christmas or Chanukah? Our final card...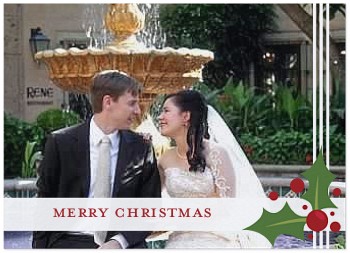 Holly Frame Christmas 5x7 folded card