Yes that was a spin-off of our beloved Rocky and Bullwinkle Show. Anyway! When picking a color palate for our wedding I was apparently very tongue tied- so says my MOH/Invitation Goddess/Graphic Designer. MOH had to fill me in on how to properly name colors and carry around a palette so that I did not wind up with the wrong colors.
But first how was I supposed to pick colors!?! As a Doctor of Audiology student I am quite good with sounds and know exactly which songs to pick and what not to... but colors I believe I must have failed that section of Kindergarten. So fiance and I sat down to discuss. We came up with a bullet pointed list (awww how we love lists) of important points about our wedding: we wanted it to be intimate, simple, romantic, peaceful, rustic, cozy and personal. How does one put together a color scheme to fit that...? We were at a loss. So we thought of all the reasons we decided to marry in peaceful Sedona rather than here in the Valley of the Sun (Phoenix).
Because Sedona is relaxed and beautiful.... the scenic red rock is one of our favorite things about Sedona. Well that and its a good 10 degrees cooler than the Valley on any given day. But the red rock- that was our inspiration. After many heated discussions with my MOH/Design Goddess/Invitation Specialist we came up with a beautiful color pattern which came from an inspiration board I asked to be designed by the lovely Blogger at
Inspiring Brides
.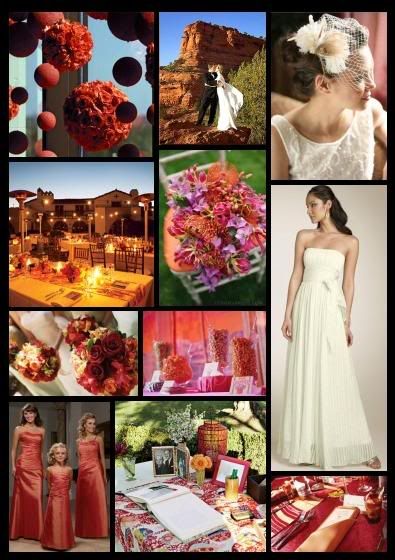 I tried to make a Color Palette on my own... and this is what I ended up with:
That's right folks a Behr paint sample which my MOH was none to pleased with. So she discussed with me colors ...and between the photo of our favorite mountain, Cathedral Rock, and the beautiful inspiration board MOH came up with the most elegant color palate I could imagine and it was exactly what we wanted. It plays off the colors in the red rocks at sunset.
By our Lovely MOH/Invitation Goddess/Graphic Designer
Were you inspired by color? What made you choose your color palette?